5 ways to enhance your home's entry
It is only at the first encounter that a face makes its full impression on us. -Arthur Schopenhauer
So…what first impression does the face of your home make on you, on visitors, on passers-by? If you are less than inspired by your front entry or exterior, there are myriad ways to add value, curb appeal, and style, and create a positive first impression that will last!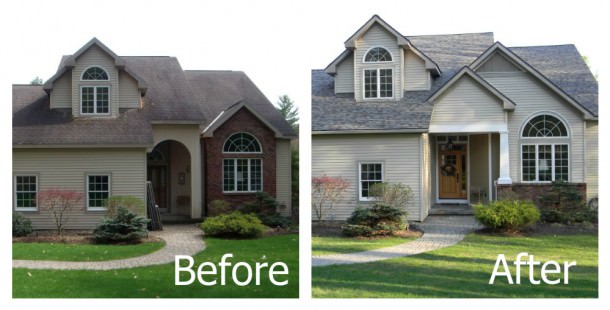 Teakwood Builders, has completed a custom home remodel, actually two very different projects for homeowners in Delmar and Greenfield, New York, where the intent was to improve and upgrade structure while beautifying each home's front entry. Like many other entry renovations completed by Teakwood, the success of these projects focused on making five meaningful changes: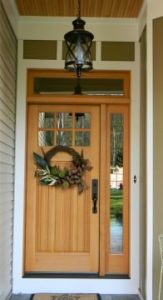 1. Invest in a quality entry door–Your front door is a reflection of your personal style and your home's character. It can make a bold statement with its color, materials, special window design, and hardware. It can welcome people in, with warmth and light and cheer…or it can turn a cold shoulder on visitors if dark, dated, or in disrepair! With or without windows or sidelights, whether of steel, fiberglass, or wood, a new entry door can be a significant investment. So take the time to design and select a door that will be distinctive and enduring, and purposefully enhance your home's facade. Consider manufacturers such as Pella, Rogue Valley Door, and Simpson Door, which have online "design-a-door" tools and photo galleries for ideas and inspiration. Recommended reading to bone up on entry door basics:
Houzz Planning: How to Choose a Front Door–Wood, Fiberglass or Steel? Find the Right Material for Your Entry Door
This Old House: Here's How to Pick a Front Door
2. Step into the light–Exterior lighting is important not only for aesthetics, but also for safety and security. Choose lighting designs and finishes that will add style and interest, and complement your home's character by day, while enhancing its beauty by night. Work with a lighting professional to select fixtures of proper size, scale, and wattage for your entry space. Use a combination of sconces and pendants like "jewelry" to dress up your exterior. A few of our favorite manufacturers include: Hinkley Lighting, Hubbardton Forge, Hudson Valley Lighting, Kichler, Murray Feiss, and Sea Gull Lighting.
3. Add moulding and millwork for architectural interest–Columns, pilasters, and casework can be added or freshened up to frame your entry, provide symmetry, and enhance or better define your home's style.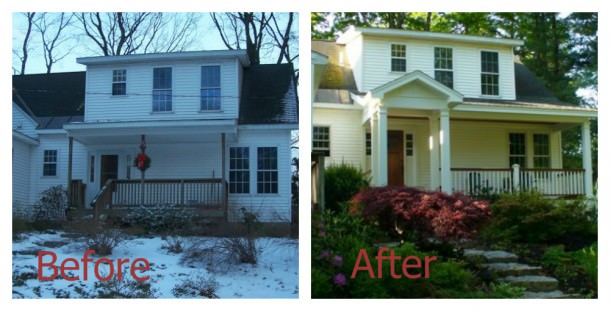 You guys did a great job here on the porch…it looks like it's always been there! -Joe W., Delmar NY
4. Focus on finishes–Rubbed bronze door hardware, forged iron lighting, natural wood entry door, multi-color slate tile, beadboard porch ceiling…These are just a few examples of how the eye–and the visitor–can be drawn in by the textures, colors, and materials you choose for your entry, all of which can combine to create a distinctive richness of details.
5. Upgrade and improve surfaces, structure, and function–Even the most appealing entry can lose its luster quickly if its foundations and structural components are stressed or showing signs of wear and weather. While both of the pictured projects resulted in significantly improved aesthetics, the driving force behind each was the need to address structural and functional concerns.
In the case of the Greenfield entry (pictured at top), the unusual roof lines had resulted in ice backup and interior damage last winter, while water runoff was compromising the concrete doorstep foundation.
For the owners of the Delmar home, the pictured rear porch was positioned on the street-side "front", but was rotted and unattractive, and relegated to being the family's catch-all for garbage cans, recycling bins, and outdoor equipment. The homeowners wanted to improve this space for safety, and transform it into an attractive entry to the new kitchen and viewpoint for enjoying the home's extensive gardens.
For both projects, Teakwood aimed to design beautiful and richly detailed entries that would address the respective homeowners' structural and functional concerns. Ensuring that concrete is sound, that water is draining away from the entry properly, and that handrails are solid and secure might not seem "sexy" when it comes to creating curb appeal. But these considerations are key to enjoying your home's enhanced entry for years to come!