Fire it up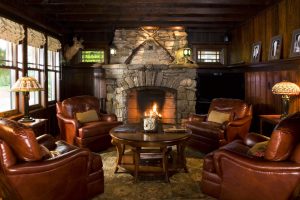 Pictures and stories of New England winters unanimously include snow piled up high, ice frosted windows, and shaking the chill by a warm crackling fire, steaming drink in hand.. There's no denying the comforting presence of a fireplace, and with the recent development of gas and electric fireplaces there are options galore for bringing some old school charm into your home whether or not you have a functioning flue. There are pro's and con's to each option however, so choosing the right solution for your home means taking into consideration your space available, your homes' style, and whether you want the unit to provide heat or simply ambiance. Regardless of which option you choose you're sure to be a little extra cozy this snow season.
Wood Burning Fireplaces and Wood Stoves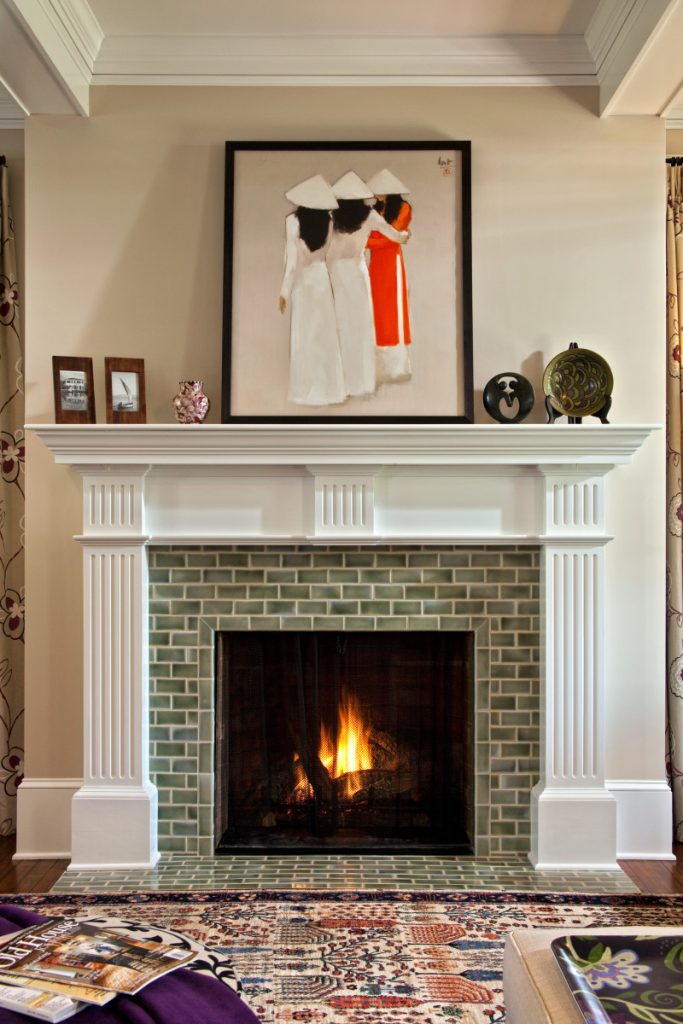 These time tested beauties are classic, and can be designed to suit your space to a T by using standard or painted bricks, an updated pattern for the refractory, or a custom mantle piece. A wood burning fireplace also cant be beat for ambiance, so if you're set on authenticity or historical accuracy then this is definitely the way to go. Fireplaces are the least efficient in terms of heating your home however. Even with the flue closed, you're often losing a good amount of heated interior air through the chimney, and the open front does little to effectively direct heat into the room. Wood stoves are a less invasive option, as they don't always require a full masonry chimney, and they're also a particularly great choice for heating – close the doors on a cast iron wood stove and you'll soon find yourself in an 80 degree living room. With these positives come negatives however. Wood burning fireplaces require a good amount of preparation, cleaning, and maintenance. You have to commit to having a wood pile and keeping it dry, as well as regular chimney cleaning and inspection to prevent chimney fires and other issues. If you have a family member or loved one with allergies the smoke from a fireplace or wood stove can also be very irritating, so take into consideration the frequency of use to determine if this is the appropriate choice.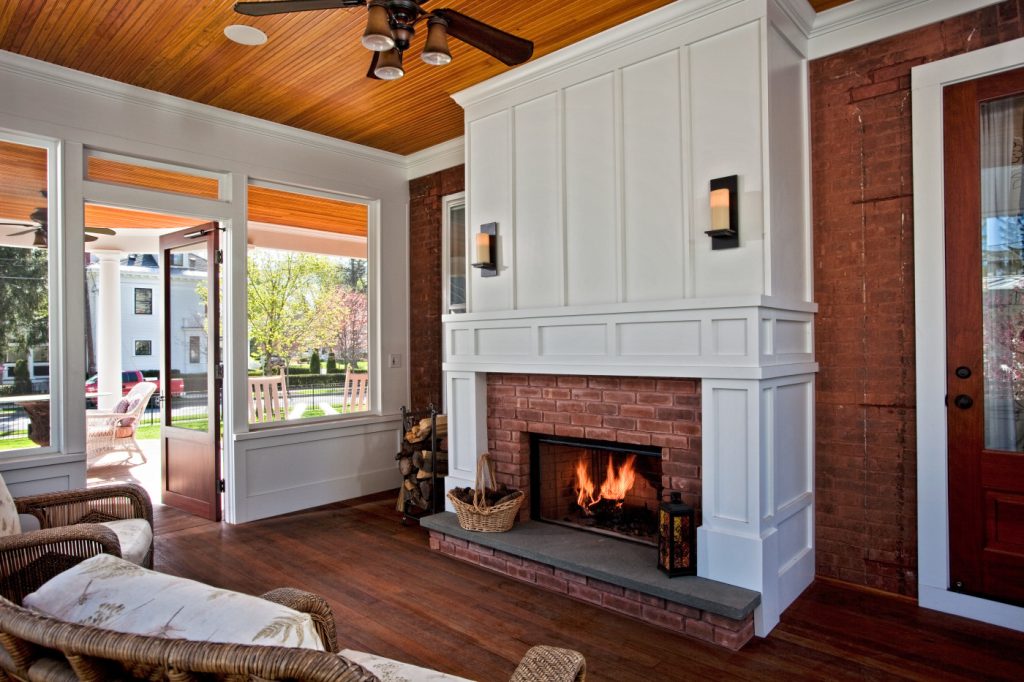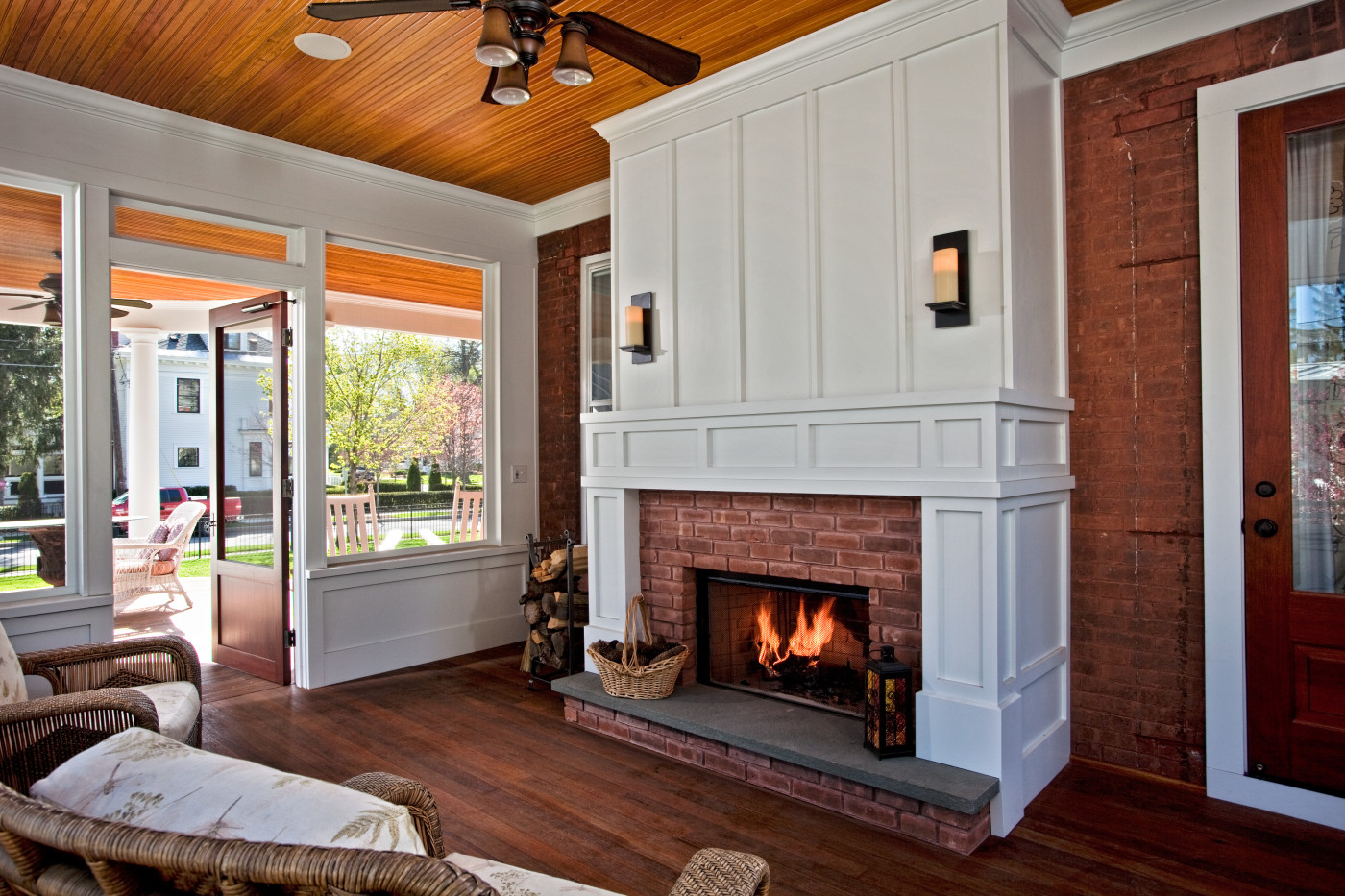 If you're in love with the look of your wood burning fireplace and just want a more efficient option however, gas and electric inserts are an excellent option.
Gas Fireplace
Arguably the most popular fireplace option right now, gas fireplaces fit almost every need. They can be placed into an existing hearth or be built into a new one, come in a wide variety of sizes, and lend themselves well to custom options. Clients can often choose from different refractories ranging from traditional firebrick to ultra-modern flat black, different log styles, door designs, and much more.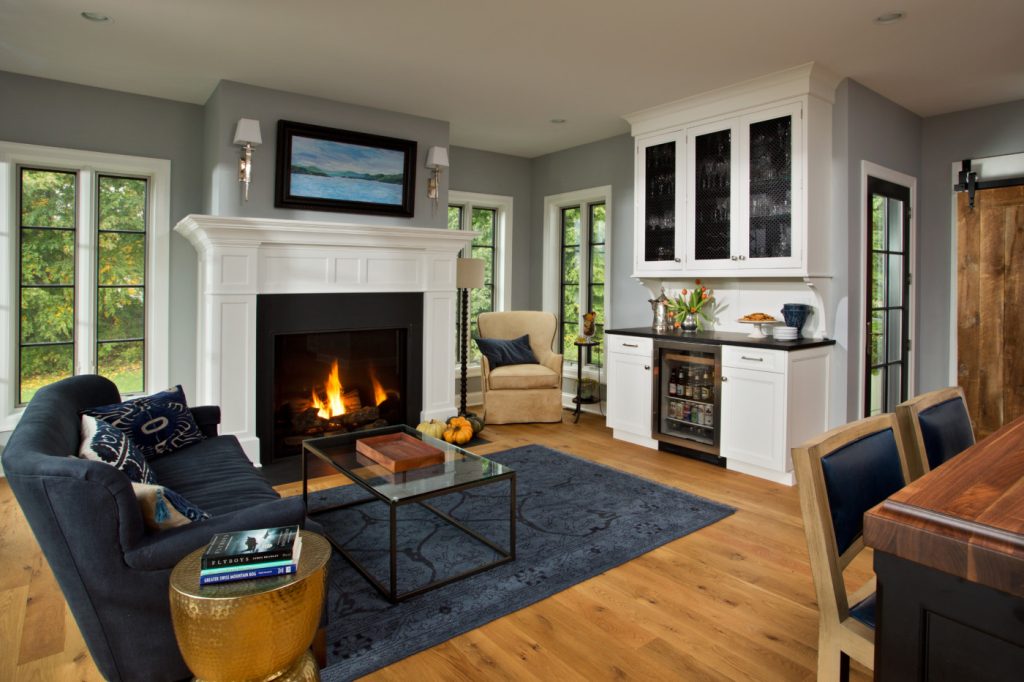 They tend to be less expensive than either installing a new wood burning fireplace or rehabbing an existing one, and you can even choose an electric wood stove if the fireplace look doesn't suit your needs like the homeowners below did at their auxiliary cabin on Sacandaga Lake. Newer models come with remote controls that function as a mobile thermostat, allowing you to control the temperature (BTU's) that your unit puts out depending on which room your in. Both styles do need to be vented however, so if your existing chimney is blocked of or unsuitable an exhaust will need to be put in.
Electric Fireplace
If venting a fireplace isn't an option for you or you're looking for a fireplace with all the ambiance that's flexible on the BTU's, an electric fireplace is right up your alley. Perfect for filling a hearth whose chimney has been blocked off or setting into an interior wall, electric fireplaces are a little newer to the scene that gas and feature HD simulated flames, usually achieved with LED lighting as opposed to a true flame. While this may not appeal to the more traditional client, for the modern home electric fireplaces offer options such as different colored flames and "media" lighting, which can act as a clear or colored nightlight behind the traditional flames.

You also have the option of a heated or unheated fireplace depending on whether you simply like the look, or need to use it to take the chill out of a room. There are adjustable fireplaces as well, so if you're not sure how you'll use it or want the flexibility of choosing the heat level depending on the situation, there's a fireplace for you. The sky is the limit with design as well, from 5 foot long displays to slim vertical installations to a standard rectangle, if you can dream it you can install it.

Now go grab some hot cocoa, prop your slipper covered feet up on the table, and relax!