April Showers bring May Flowers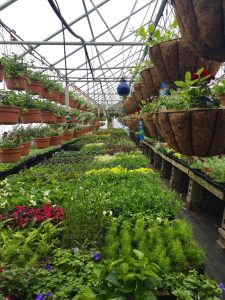 Balet Flowers and Design: Art in living form.
---
Whether you're in the market for a few pansies, a whole flat of chives, a planting consultation or wedding flowers, do yourself a favor and go to Balet Flowers on Nelson Ave. Extension before you go anywhere else. I recently met with Suzanne of Balet and already can't wait to go back.
When you walk into the shop front, you're greeted by gorgeous hand thrown pottery that Suzanne makes herself, including her very unique upside down planters. Walk through a door to the right of the perfectly imperfect mugs and plates and you're in the first greenhouse, filled to the brim with sprouting seedlings, hanging baskets, and oodles of colorful flowers waiting to be planted.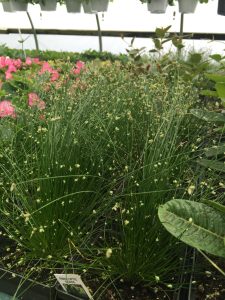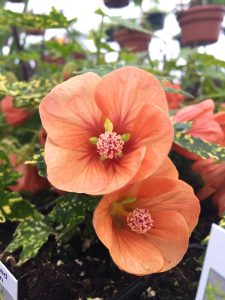 Suzanne guides me through the flats, pointing out familiar beauties like bright red Begonias and pastel Cape Daisies, to a few varieties I have never seen before
like Abutilon, also known as Chinese Lantern or Flowering Maple and Fiber Optic Grass, a slightly stiff and irresistibly touchable grass with small seed clusters on the end. As we continue to walk, Suzanne explains to me that she likes to carry plants you may not be able to find at other nurseries so her clients have the chance to try something new with confidence. Suzanne has a degree in Horticulture from SUNY Cobleskill/Cornell, and the rest of her staff are either Master Gardeners or have learned from experience so regardless of who you speak to, what your sun exposure is like, and how often you feel like watering your plants the entire staff can make sure you go home with the perfect plants for your home garden.
This is where Balet flowers truly shines. Not sure where to start or what you've already got? Balet will come to your home and distinguish the weeds from the perennials, decide what can stay or if things need to move around, and then work with you to create your perfect garden. Suzanne's face lit up when she started talking about creating different textural layers in flowering gardens that will bloom from spring through fall, her passion palpable and completely genuine. I was five seconds away from contracting her to do my own garden before I remembered I live in a second story apartment and don't have a yard.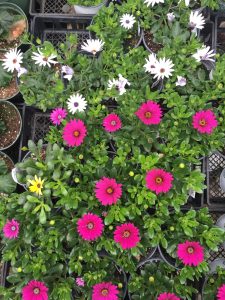 If you're in the market for veggies Balet's got you covered there too. The second greenhouse we walked into had everything from lettuces to heirloom tomatoes to tri-color sage, and the best part is you can choose to purchase seeds to grow your own starters (true for her flowers as well), or pick up their seedlings and simply plant and go. Balet also works with the brand new organically oriented Malta Community Garden, offering discounts to members and happily giving advice to anyone who asks, seasoned and novice gardeners alike.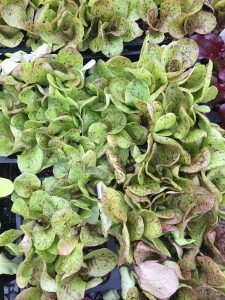 As we walk back out the front through the greenhouse, I ask Suzanne about the positives and negatives of native and non-native plants, as she carries both. Both have their advantages, native plants are more accustomed to the soil and weather of the North East, but many non-native thrive just as well given proper care. The best part is that both are good for the bird and bee population, attracting and keeping them happy with food and shelter galore.
Our interview came to a close, but I lingered for another twenty minutes taking too many pictures and speaking with a lovely woman about the appropriate things to put in my part-shade hanging basket (we decided on a hearty begonia variety that will spill over the sides into a waterfall of bright red), and as I drove away I couldn't help but mentally schedule my next visit, if just to stroll through the greenhouses.