Teakwood Builders Shops 23rd [and Fourth] Design Boutique
Fine furnishing and interior dhom [and Fourth], is located in an impressive Greek Revival mansion in Saratoga Springs historic Franklin Square. Built in the 19th century from cut ashlar blocks with a two-story columnar portico, it is an appropriate introduction to the exquisite home decor displayed within.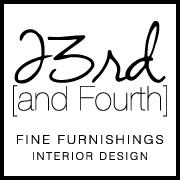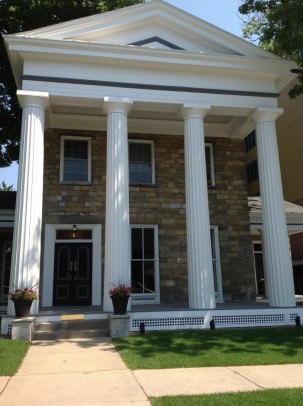 Inside, a collection of chic designer furniture, artful wall assemblages, and eye-catching fabrics is showcased against the historic backdrop of high ceilings, crown moldings, prominent mantelpieces, and oversized windows. The juxtaposition lends "pop" and unusual freshness to already dynamic wares.
Owner and interior design professional Janet Longe and daughter Jamie Davies enjoy teaching their clients how to incorporate modern accents alongside longstanding heirlooms and how to display antiques in and around more clean-lined, contemporary furnishings.
While these two interior designers offer their own bespoke home design services and creative eye, they also offer their clients products that are highly customizable. Companies like Oomph cater to discerning clientele by making slight modifications to existing designs or creating a completely new piece. Shrink or enlarge the scale of a standard work to fit your home, or dream it up with a CAD drawing.
Teakwood Builder's designer Eva Andersen recommends the brightly hued "Tini Tables" tables from Oomph to punctuate a living room or outdoor space. They are small enough to move around and even change out by season.
23rd and Fourth is also an exclusive dealer for the trending company "Dunes and Duchess." Andersen set up their "Wood Top Drink Drop Cocktail Table" in "Italian Red" against lime ikat fabric and slipper chair for a modern take on a traditional pairing. (The table comes in several lacquered colors including "No Scurvy Lemon" and "International Lifesaving Orange")
Graphic pattern and bold geometrics are displayed in every medium. Layering them adds interest to a room. If bright colors are not your thing, try combining natural and raw materials like wood, glass, wool, wire to achieve depth and texture. This mid century-inspired floating console table appeals for its clean right angles juxtaposed by the softer, organic shapes of the wood grain.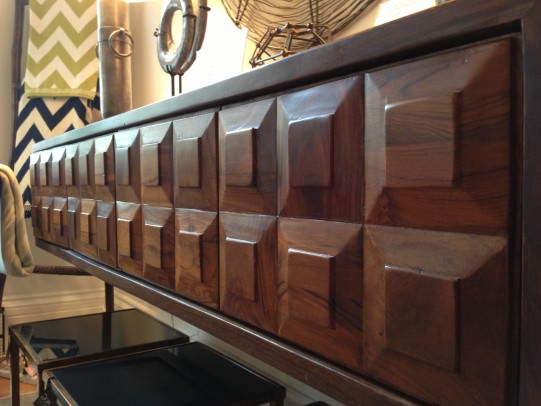 23rd and Fourth has added several lines of gifts and accessories including Pine Cone Hill, Nambe', and Chilewich. These serving pieces would make a stylish hostess gift or wedding present.