Two Teakwood projects featured in Capital Region Building magazine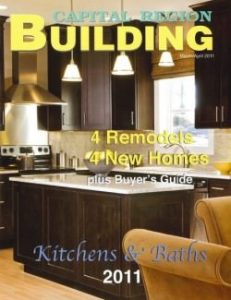 Two projects completed by Teakwood Builders appear in the March/April 2011 issue of Capital Region Building magazine, now available at local kiosks throughout the Capital Region. This popular annual "Kitchens & Baths" edition showcases recent projects by local builders and remodelers, and highlights the innovative products and unique design features of some of the area's most distinctive home renovations in Albany. Teakwood-built projects were represented in both the kitchen and bath categories of this publication.
Kitchen renovation ranks among the top home improvement projects, and investment in upgrading the kitchen has historically provided homeowners with a solid financial return where resale is concerned, according to the Remodeling 2010-11 Cost vs. Value Report (www.costvsvalue.com). The owner of a Burnt Hills home reached out to Teakwood Builders with this in mind, seeking to renew, improve, and "lighten up" her kitchen. Custom cabinets with concealed task lighting help to brighten the space, while furniture-style legs at the new island and natural stone at the countertops and backsplash convey vintage farmhouse character.
Bathroom additions and remodels also remain popular, as homeowners increasingly want to transform this functional space into more of a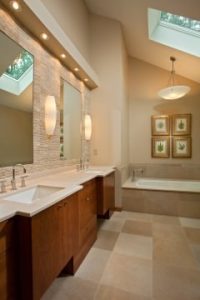 personal retreat with spa-like amenities and styling. Plum & Crimson Fine Interior Design and Teakwood Builders worked closely with the homeowners to modernize and open up an outmoded master bath in Saratoga Springs. Sleek finishes, colors, and fixtures were incorporated into the newly designed bath layout to create a classic yet contemporary space, whose ample attractive storage makes for a tranquil clutter-free zone that is high on style and low on maintenance. .
Looking for ideas and inspiration for your own home? Browse our Portfolio, and learn about our process if you are interested in working with Teakwood Builders to create your custom space!