Is there a lightbulb we can live with?
The incandescent lightbulb is the international symbol of inventive inspiration.
Invented by British chemist Humphry Davy in 1809 and commercially developed by Thomas Edison in 1880, the classic glass lightbulb provides the warm, faithful rendering of color that most of us grew up with. Electricity heats a thin filament to around 2,700 degrees Celsius, emitting a broad spectrum of light.
The problem with this remarkable invention is that more than 95 percent of the energy that goes into the tungsten wire is wasted as heat that floats off into the atmosphere. In 2007, the U.S. Energy Independence and Security Act effectively signed the incandescent bulb's death warrant by setting a timetable for energy efficiency that bulb manufacturers could never achieve with mere tungsten under glass. (The world's largest lightbulb manufacturers lobbied in favor of the bill.)
In compliance with the law, U.S. manufacturers began to phase out 100-watt incandescents in 2012, 75-watt bulbs in 2013 and 40- and 60-watt bulbs in 2014. In early 2015, Canada joined the United States, the European Union, Australia and several other countries to phase out the production and import of incandescent light bulbs.
So what happened to our light fixtures?
Compact fluorescent bulbs flourished. Compared to everything other than 50-cent tungsten bulbs, they were cheap, used 75 percent less electricity than an incandescent bulb and lasted 8 to 10 times longer. CFLs use mercury gas to produce invisible ultraviolet light when the gas is excited by electricity. When the UV light hits the white coating inside the fluorescent bulb, the coating changes it into light you can see.
A perfect solution, yes?
Except for the fact that many people hate them. Their harsh, white glare could chill the warmer impulses of the sensitive soul. And it is annoying to stand in a dim closet waiting for a CFL to warm and brighten enough to show the matching socks.
Now, CFLs are going away, too. In September 2015, international retailer Ikea removed the compact fluorescents in its stores. Last week, General Electric announced it will stop making and selling compact fluorescent light bulbs in the United States by the end of the year.
All of the shelf and production space is being turned to LEDs, or light-emitting diodes. These are thin chips that become illuminated by the movement of electrons through a semiconductor material.
LEDs are being made in a growing variety of styles, even mimicking the shivery amber glow of Edison bulbs. They last a long time on average and are as energy efficient as CFLs. The problem is, that up until now, they have been pricey – 10 to 30 bucks a bulb. That's changing, too.
In the spring of 2015, GE began shipping a cylindrical 60-watt soft white LED bulb that cost $9.97 for a three-pack. A month earlier, Philips launched a $4.97 LED bulb, with a two-for-one deal for the first 90 days. TCP, a company that makes energy-efficient lighting for Home Depot, Walmart and its own brand, has an LED bulb on the market for $4.88. Although there's no compelling reason for them to retain the snowcone shape of a "classic" lightbulb, many of them do – at least for now.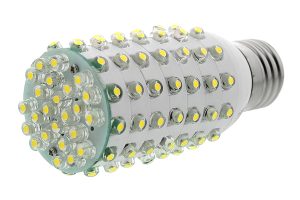 It is still legal to make old-school incandescent bulbs as long as they have with candelabra bases, tube-shaped bulbs or globe-shaped lights larger than 5 inches. But if your green conscience can stand it – and you are inexorably drawn to the speak-easy chic of a warmly glowing Edison bulb in your standard-base lamp – stock up now.
An irony is that the bulk of lightbulbs sold in this country are still technically incandescents. Halogens have a tungsten filament. Halogen gas inside the bulb carries the evaporated tungsten particles back to the filament and re-deposits them, making them 10 to 20 percent more efficient than non-halogen incandescents.
According to the National Electrical Manufacturers Association, halogen bulbs make up about half of standard bulb shipments, followed by CFLs at about 27 percent and LEDs at 15 percent.
Making a better bulb at MIT
Researchers at Massachusetts Institute of Technology, with funding from the Army and Department of Energy, are developing an incandescent bulb that they believe will be as efficient as CFLs and LEDs. By surrounding the filament with a crystal structure in the glass, they can bounce back the energy which is usually lost in heat, while still allowing the light through.