Teakwood Bathrooms: Benchmarks of Luxury Lifestyle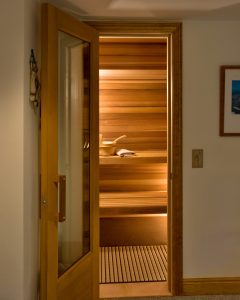 A house can be historic, but not your bathroom. Privy to our more intimate moments, bathrooms need pampering too.
Most of us stumble into our bathrooms half asleep and half dressed in the morning, and when we leave it, we are awake, refreshed, clean, and ready. Behind the closed bathroom door we give ourselves pep talks, groom ourselves glamorous, practice our winning look, and unwind at the day's end. While it may be true that families who brush together stay together, it is the alone time in our bathroom that we truly cherish. Our bathroom is our sanctuary, our personal retreat.
When done right, a new bathroom, particularly a master bathroom, can transform the way we experience our whole house. As one client put it, "forget staying at a hotel for the weekend, remodeling our master bathroom made us feel as though we had a completely new house." Bathrooms are the new benchmarks for a luxury lifestyle.
"Often a client will come to us with 3 or 4 problematic bathrooms at a time," says Jim Sasko, president and owner of Teakwood Builders. "We can reallocate adjacent space to increase the square footage or create a focal point by adding an architectural detail, but our work in bathrooms is mostly cosmetic," Sasko explains. "We strip a bathroom right down to the studs, redesign it with custom storage, and then guide clients through the extensive material and fixture selections to dress it back up again."
The master bathroom is where most Teakwood clients decide to splurge. The master can be a mini spa room filled with therapeutic amenities dedicated to relaxation and well-being. Or, it can be a mini design showcase that stands apart from the rest of the house.
Separate water closets, his and her vanities, warming floors, a walk-in steam shower with frameless glass door, a soaking tub with a stone tub deck—these are just some of the elements that discerning clients ask for in their luxury bathroom remodeling. Teakwood clients may begin the process knowing they want an Ann Sacks ceramic tile mosaic on their shower wall and a new Waterworks cast iron bathtub, Toto eco toilet, or Kohler pedestal sink. In no time they end up learning about thermostatics, Axor Starck speaker modules, Rohl rainbars and body sprays, back lit onyx glass panels, and Bain Ultra chromotherapy. Sasko says, "the sky is the limit in the master bath."
And how far does one go when creating a luxury master bathroom? Teakwood coaches clients through design and cost decisions in order to create a luxury bathroom that will add to the resale value of a home yet meet budget expectations. Sasko finds that the master bathroom tub often sits at the heart of these design dialogues.
It seems that every magazine article we look at highlights the master bathtub as central focal point, but is this concept practical? Do people actually have the time in their days and weekend to stop and take a bath? Perhaps the extra space can be used for storage and the extra dollars pumped into a steam sauna or a multi-head shower system. On the other hand, the master bathtub capped by an elegant chandelier and fenestrated backdrop spells out sanctuary and elevates the room. Perhaps the bathtub survives as the visual reminder of your end goal, a hope for a quieter, more relaxed day. Either way, it's an intimate decision.
Close the door. Keep your clothes on. Undress your bathroom. It's time to celebrate!