Teakwood Builders is committed to providing each client with a positive and rewarding experience during the planning and building process. We have spent two decades perfecting a comprehensive system built upon collaboration, open communication, mutual respect and thorough planning. No matter how satisfying the final product will be, we firmly believe that getting there should be a big part of the fun. Please let us explain our processes and practices so you can look forward to your project with as much enthusiasm as we do – with a clear and reassuring understanding of costs, planning, materials, timing and the roles different participants play in realizing your goals.
How we arrive at the finished product is as important as the product itself. We hope that thoroughly explaining our practices enhances your understanding of other vital parts of the project, including costs, planning, materials and the roles that various people will play in bringing a building plan to life.
Design/Build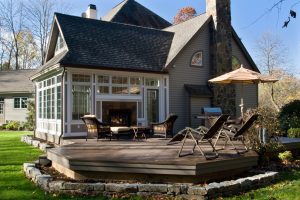 Our "Design/Build" approach is built on a simple concept: Instead of scattering responsibility for pieces of a project to professionals at different firms, it's better to rest all the elements of design and construction with one team from beginning to end. This tactic helps bridge any communication gaps that can cause potential problems or inefficiencies. Design/Build allows us to identify and prioritize the project details directly with our clients, using our expertise and creativity to develop plans that meet unique needs and expectations while respecting the client's budget. It also makes one team answerable for the quality and progress of your project – eliminating the phone tag and finger pointing that can plague traditional construction formats.