Homeowners using basements for a lot more than breeding dust bunnies
By Tim O'Brien
Updated 2:26 am, Sunday, October 18, 2015
Once upon a time, remodeling the basement meant putting up some paneling, laying down some wall-to-wall carpet and telling the kids to go play downstairs.
Not any more.
Now the basement can mean a place to store vintage Bordeaux, a home gym, a place to go swimming or a guest suite.
"We've done pretty elaborate theaters, wine cellars, bowling alleys, swimming pools," said Jack Witt, owner of Witt Construction in Saratoga Springs. "We've done hidden wine rooms where the wine room is under the staircase."
The firm is among many being kept busy remaking what was once the lowliest part of the home.
David DePaulo, owner of Bella Builders in Malta, said changing the basement into a vibrant part of the home is a growing trend.
"A few years ago, I never really talked to people about the basement," he said. "Now when we build a house, we have a basement design."
Wine cellars are the most popular choice, he said, but he has discussed everything from a movie theater to a pistol range with clients.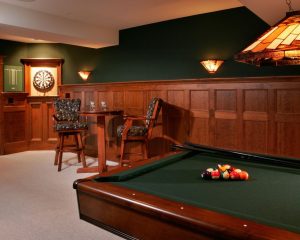 Jim Sasko, owner of Teakwood Builders, said there are reasons the basement is often the favorite room to remodel in a home.
"The basement is the easiest, most cost-effective living space you can add to your home," he said.
The firm has put a full-sized swimming pool in one basement.
"That had a purpose," he said. "They had two young daughters who were on the swim team. That was their everyday workout."
Eva Andersen, a designer with the firm, said clients don't just come in and say they want to do something with their cellars.
"They usually have a wish list, for sure," she said.
Once popular in the 1970s, the basement bar is also making a comeback, Sasko said.
One customer, Andersen said, didn't drink alcoholic beverages but wanted a bar for serving soda.
Contractors say it is also increasingly popular to turn the basement into a guest suite, with a bedroom, social area and private bathroom.
"We're doing less bedrooms on the upper floors and we're doing guest suites on the lower level," she said.
"We open the staircase from the upper level so you don't feel like you're walking into a basement."
In one case, Sasko said, his firm built quarters for a live-in nanny.
A basic makeover can cost $60,000 to $65,000, but Sasko recently worked on a $2 million basement makeover. Not surprisngly, people who spend that much on their basements aren't eager to talk publicly about it.
Home theaters too are a popular choice. The audiovisual equipment alone can run $40,000 to $80,000. Add in the theater seating, and that adds another $40,000 to the tab.
"We've been fortunate to be part of those jobs, where people will pay $40,000 for theater seats," Sasko said.
Oh, and adding windows is also increasingly popular. Not those half windows where you can get a closeup look at a squirrel's feet but full-sized windows and even outdoor entrances.
"We do retaining walls to hold back the dirt so they can get egress," Witt said.
Sasko said a ground-level entrance can be added with retaining walls, a piece of the foundation can be cut out and an "escape well" added, or the grade can be lowered to create a window or entrance.
The escape wells are popular, he said, because you can buy one that is premade and have the work done to make it fit. Custom ones can also be created.
The key these days is to make people forget what room they are in, Witt said.
"We make the basements not feel like basements," he said.
tobrien@timesunion.com • 518-454-5092 • @timobrientu