Hoods that Express as Well as Inhale
Do you ever turn your hood off while you're cooking because it's just too noisy? As long as the smoke alarm doesn't go off, who needs it, right?
Unfortunately, while you might not notice it right away, those unvented cooking smells – as well as moisture and grease – build up, hurting the air your family breathes. Your cabinets can develop a film of ick, and maybe even warp and mildew.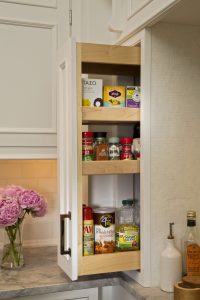 If you are thinking about renovating your kitchen, there are some unglamorous, technical things you should decide with your kitchen designer before you get to any of the fun stuff. (We'll get to the glamorous bits in a second.)
Your designer will match the required CFMs (cubic feet per minute of air flow) your ventilation needs to handle the heat your stove throws. The sound level – measured in sones or decibels – can be lowered by choosing the right motor, moving the noisy blower further down the duct run from the body of appliance or adding an inline blower to the main blower if the duct run is unusually long.
Your designer can also help you understand if your home's HVAC system needs to be augmented with a make-up air system so that your hood doesn't create greater air-pressure inside the house than outside (imagine feeling like you're in an airplane every time you flip the hood fan on high.)
A range hood's efficiency decreases the higher it is above the cooking surface. But if the hood is too low or sticks out too far, the taller people in your kitchen will constantly be ducking and cracking their heads. A designer can help make sure that the fan is as unobtrusive and quiet as possible within the proper building codes and manufacturer's specifications.
The technical elements are vital if you're going to love using your kitchen. But they are seldom the things that make you and your friends go "Ooooh" at first sight.
The hoods for exhaust fans are increasingly becoming showcase art that draws the eye and pulls the room's design elements together (while hiding the necessaries.) Teakwood Builders' designer and craftsmen love the challenge of elevating the range hood from a boxy, utilitarian must-have to a fun focal point.