Eva's top 8 Soaking Tubs
From ancient Roman public baths to Victorian Era rolled edge slipper tubs to Modern Day soaking tubs, the human race has roughly a 5000 year old tradition of settling into some perfectly hot water and allowing the stresses of the day to fall away. While the invention of the shower may have made the bathtub somewhat obsolete for a time, there's something to be said about being able to truly pamper yourself in the comfort of your home, and many of today's homeowners are all for it. Whether you are looking for a traditional porcelain claw foot tub or a super modern integrated concrete one, Teakwood Designer Eva Andersen has you covered below with her 8 favorite tubs of the moment. Grab your rubber duckies and get ready to relax.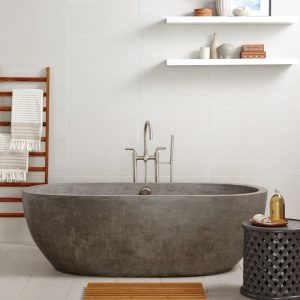 This concrete tub from Native Trails manages to be modern and rustic all at the same time. It's hand applied finish provides plenty of texture and interest to keep it from feeling sterile, while the unique combination of natural jute and concrete (known in Native Trails products as NativeStone) means it's much lighter than traditional concrete.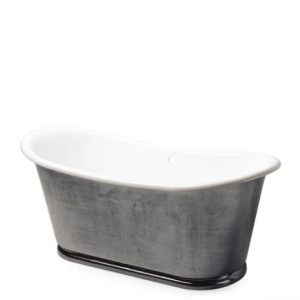 Combining the clean look of enamel with the timeless durability of cast iron is this Waterworks beauty, modeled after the traditional French boat tubs. Finish the exterior with a high quality paint for a clean smooth look, or choose a burnished finish to truly embrace the style.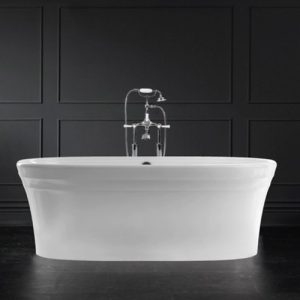 The simplicity of this Victoria & Albert tub is everything. With some large form white tile and some great caulk work you'll never be able to tell where the floor ends and this tub begins. This spa-like tub that just begs to be surrounded by candles and filled to the brim with bubbles.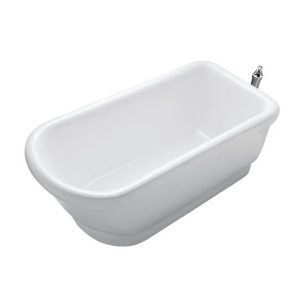 A fan of the 1930's? Then this stunner by Michael S Smith may be right up your alley. Modeled after the luxurious baths of Manhattan Park Avenue apartments, this bath would pair perfectly with a well made Old Fashioned.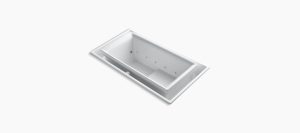 On the opposite end of the spectrum, Kohler has blessed us with this very modern and incredibly functional soaking tub. Features include, but are not limited to, 11 effervescent ports that deliver tiny bubbles to the entire bath so you'll feel like you're cleaning up in champagne, a constant flow of water cascading over the sides, and color changing lights.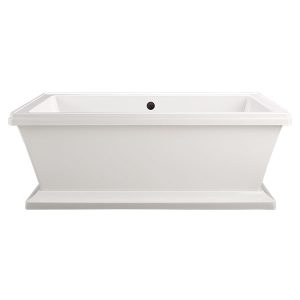 Sixth on our list is a model of sheer sophistication. American Standards "Fitzgerald" Tub truly stands up to its stately name, evoking timeless
ness, stability, and elegance.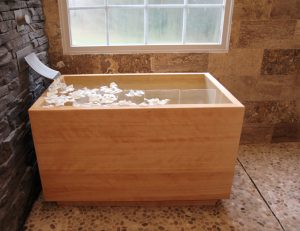 The Japanese take a different stance than Americans when it comes to tubs, and they're definitely on to something. Usually shorter in length than a standard bathtub, Japanese tubs tend to be very deep (think being able to sit fully upright and only have your head poking out of the water deep). The result is an incredibly relaxing experience without constantly having to re-adjust yourself to keep your head from slipping in the water.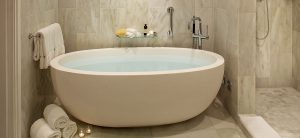 Last is this streamlined soaker by Tyrell & Laing International, which feels just as right in a comfortable neutral bathroom, pictured, as it would in a sleek and seamless modern one. The shape is unique, but not so much so that it seems out of place in these different environments.
Now grab a glass of wine, fill your tub to the brim with bubbles, and get relaxing!