Teakwood Builders wins national remodeling award
Saratoga Springs-based luxury builder and remodeler wins fifth Chrysalis Award
Teakwood Builders recently won a remodeling award for its work reimagining a 1970s ranch in Saratoga Springs, New York.
Continuing to set new standards of professionalism, 79 companies from across the United States were named winners at the 2022 Chrysalis Awards for Remodeling Excellence. The entries were judged on overall design, the creative use of space and materials, and the degree to which the project enhanced the original structure.
For its winning 2022 entry, Teakwood showcased a whole-home transformation in the $400,000-$700,000 category. Read about the challenges, solutions, and final results of remodeling a 1970s Saratoga Springs ranch for the 21st century on the company's website. This is the fifth Chrysalis award for Teakwood, a Saratoga Springs-based luxury builder and remodeler founded in 1996. In addition to Chrysalis awards, Teakwood has won many other national and regional design/build awards, including those sponsored by Kitchen & Bath Design News, Professional Remodeler, National Kitchen & Bath Association, and Capital Region Builders & Remodelers Association.
Of this project, Teakwood president and owner Jim Sasko says, "It's fun to see imagination stretch the architecture of what we are ordinarily accustomed to living in. Our design and production teams were really responsive to the homeowners' needs. A lot of creativity went into making this home a welcoming place."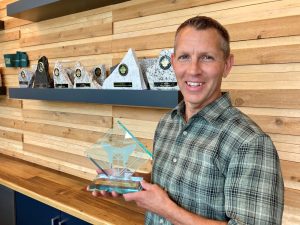 "Teakwood has won five Chrysalis Awards since 2007, demonstrating the company's ongoing commitment to professionalism and excellence," said Ken Kanline, director of the Chrysalis Awards program.
About the Chrysalis Awards
Since 1993, the Chrysalis Awards have honored the finest remodeling projects in the country, in fourteen general categories of residential and commercial remodeling. Awards are open to every professional remodeler and design professional in the United States. Judges are editors and writers of consumer publications such as Better Homes & Gardens, Woman's Day's Home Remodeling & Makeovers, Southern Living Magazine and Sunset Magazine. Projects are judged on design, use of materials, use of space, and integration into the existing space. Pictures and summaries of the 2022 award-winning projects can be seen on the Chrysalis website.