CRBRA honors Teakwood with two Best in Building Awards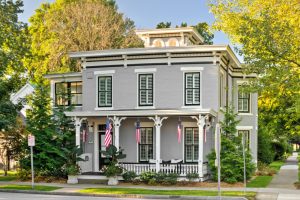 At its 2022 Best in Building Awards held on Thursday, November 3, the Capital Region Builders & Remodelers Association (CRBRA) honored Teakwood Builders with two awards: Best Historic Remodel—for an exterior restoration of an 1860s Italianate residence in Saratoga Springs—and Best Overall Remodel—for the comprehensive work done to restore and rebuild a Saratoga County home destroyed by fire.
The Best in Building Awards recognizes CRBRA members for their excellence and innovation in residential building, remodeling, design, and marketing. In 2022, 53 were awards were given out across 25 companies from a record-setting 200 submissions. Entries were judged by impartial industry experts from other markets with no identifying information. Over 200 people attended the awards dinner, held this year at the Canfield Casino in Saratoga Springs.
"We were thrilled to celebrate the 10th annual Best in Building Awards, recognizing the immense talent of our members and the work they're doing right here in the Capital Region," said Kristen Egleston, CRBRA Executive Officer. "Each year this event has grown three-fold with the number of entries received, companies participating, and event attendance. The awards have become more coveted by our members. We're incredibly proud and honored to award our members for their hard work, talent, and creativity."
Of Teakwood's wins, Ms. Egleston said, "Congratulations to Teakwood Builders for winning the awards for Best Historical Remodel, and for Best Overall Remodel for the second year in a row! We can't wait to see what you enter next year."
CRBRA is the local affiliate of the National Association of Home Builders and the New York State Builders Association, representing members in Albany, Columbia, Greene, Montgomery, Rensselaer, Saratoga, and Schenectady counties. It is comprised of builders, remodelers, and industry-related associates, and is dedicated to providing leadership, education, and motivation for its members. CRBRA members commit to following the highest professional and ethical standards, giving homeowners the peace of mind that they are hiring reputable industry professionals.
Teakwood has been a long-standing and active CRBRA member, and is grateful to the organization for its support and this recognition.