Preventing ice dam damage with better insulation

Another bitterly cold morning greets us here in Upstate NY, along with news of a fresh round of crippling snow in the Midwest, perhaps headed our way, and we collectively wonder: When will this cold abate? Where is all the white stuff coming from, and where we are going to keep putting it? The more serious issue that is plaguing many of us, as seen on the local TV news and in newspaper headlines: The weight of snow on our roofs, and the ice damming that is causing extensive water damage in our homes and businesses.
Do you have icicles hanging from your eaves, like the ones pictured here? You could have an ice dam issue. As homeowners are frantically reacting to and coping with the water that is seeping back into their homes because of ice buildup on their roofs, they are turning to Teakwood Builders for help, and for guidance on preventing ice dams from recurring in the future.
To address this issue, it first helps to understand the anatomy of an ice dam, and how your home functions as a dynamic, interconnected system. Once you have awareness of the damage that those beautiful but not-so-benign icicles can cause, the next step is to ensure that you and your home are prepared for the elements. Key to preventing the heat loss from your home that contributes to the melt-freeze cycle is adequate and effective insulation. Teakwood Builders has long advocated for homeowners to consider upgrading their home insulation when planning home improvement projects. For the technically inclined among us, this comparison of insulation types from the North American Insulation Manufacturers Association will give you an idea of the options available. But for the best guidance and assistance in ensuring a proper insulation installation, turn to Teakwood.
Teakwood president Jim Sasko provided this explanation and resolution to a client recently: "Where there is ice at the eaves, there is heat loss. The best way to avoid heat loss is to properly seal/insulate your (second floor) ceilings. I've been in your attic and recognized the spotty insulation. We have and continue to suggest having all fiberglass insulation removed, build rigid insulation boxes around every ceiling penetration, spray foam approximately 2″ of open cell (or closed) to the back side of the drywall ceiling, and then add 15″ of cellulose insulation above that…I did the same application in my last home (no ice) and will be doing it in the home I'm currently building."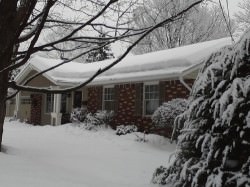 A case study in this effective home insulation Saratoga maintenance plan at work is in the home pictured here. This 1979 ranch was completely remodeled on the inside last winter by Teakwood Builders. (The project also included new windows, a new roof, and an upgrade/enhancement to the front entry porch.) While the homeowners were primarily concerned with improving the look, interior layout, and curb appeal of their home, Jim and Teakwood's project planner Thad Smith encouraged them to upgrade the home's attic insulation as part of the project. But convincing these (and many other) homeowners to put remodeling dollars toward home parts that are not as "flashy" or visible as, say, new kitchen cabinets, was–and continues to be–challenging (dare we say that we often get "frozen out" when mention of this arises?).
Mechanical upgrades and attention to thermal and moisture protection are just as vital to a home's beauty and value, but investing in these components is often passed over by homeowners, because they cannot be as easily seen or appreciated as the aesthetic enhancements to a home.
But in the end, investing in the attic insulation plan recommended by Teakwood has truly benefitted the owners of this residence, both in real cost savings from improved energy efficiency and reduced heat loss, and by giving them peace of mind during this snowy, icy winter. As pictured, the homeowner continues to be proactive about removing snow from the roof's perimeter edge, to ensure that the gutters remain open. But even without this preventive step, this home has enjoyed a mostly icicle-free winter, at a time when its neighbors have been plagued by issues like the one pictured at the start of this post.
Contact Teakwood today to learn more about how we can help you to solve or prevent your own ice dam issues with an effective insulation and/or damage repair plan.